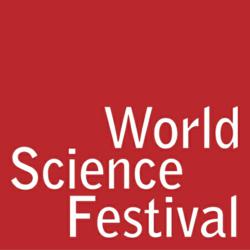 New York, NY (PRWEB) April 25, 2012
The 2012 World Science Festival (worldsciencefestival.com) returns to New York City for its fifth anniversary season, May 30th to June 3rd, 2012 with more than 50 extraordinary events, performances and exhibitions designed to make the esoteric understandable and the familiar fascinating.
The Festival brings together many of the worlds leading scientific minds with renowned artists and influential thinkers to illuminate science in novel and exciting ways, breaking down barriers and connecting leading scientists to a broader public. Since its inception, the annual Festival has attracted more than 600,000 people to 200 programs in locations throughout New York City. It is the nations most anticipated science event and allows everyone kids and adults, novice and enthusiast to experience science in a unique and thrilling way.
The 2012 World Science Festival opens with the stunning multi-media performance piece Icarus at the Edge of Time, at the United Palace Theatre on May 30th, featuring an original orchestral score by Philip Glass, a film directed by innovative cutting-edge British filmmakers Al+Al, and a script adapted by author, physicist and string theorist Brian Greene and Tony-Award winning playwright David Henry Hwang.
Topics for the programs that follow include Einsteins spooky action in quantum mechanics, the link between brilliance and madness, never-before-seen footage of coral reefs, the surprising role of quantum physics in biology, an examination of why the human species prevailed, the next wave of the internet, an exploration of some of the coolest jobs in science, and a journey toward the coldest temperatures ever recorded.
The Festival will feature two daylong family-friendly, immersive events for budding scientists: Science-On-Site: Explorations in Brooklyn Bridge Park on June 2nd which culminates with an evening of stargazing, and The Ultimate Science Street Fair in Washington Square Park on June 3rda jam packed, wall-to-wall science extravaganza.
Also new this year is Innovation Square, a daylong tech fest in downtown Brooklyn that celebrates innovation by transforming NYU Polys MetroTech outdoor quad into a technophiles playground, teeming with innovations from all over the world.
In an invitation-only event, the Festival will host the prestigious 2012 Kavli Prizes, the international biennial awards that recognize scientists whose outstanding advances have dramatically expanded human understanding in the fields of Astrophysics, Nanoscience and Neuroscience – the big, the small, and the complex. The Kavli Prizes consist of $ 1 million in each of the three scientific fields, with this years laureates to be announced at the Festival live-via-satellite from The Norwegian Academy of Science and Letters in Oslo, Norway.
A preliminary list of 2012 World Science Festivals distinguished participants includes: Nobel Laureates Bill Philips and Harold Varmus; Pulitzer Prize winners Siddhartha Mukherjee and Richard Rhodes; Government leaders John Holdren, Director of the White House Office of Science and Technology Policy for President Obama and EPA Administrator Lisa Jackson; world-renowned scientists Oliver Sacks, E.O. Wilson, Eric Lander and Elaine Fuchs; award winning filmmaker and videographer Lynette Wallworth and architectural artist Tom
Tags:
United Palace Theatre
,
2012 World Science Festival
,
World Science Festival
,
Washington Square Park